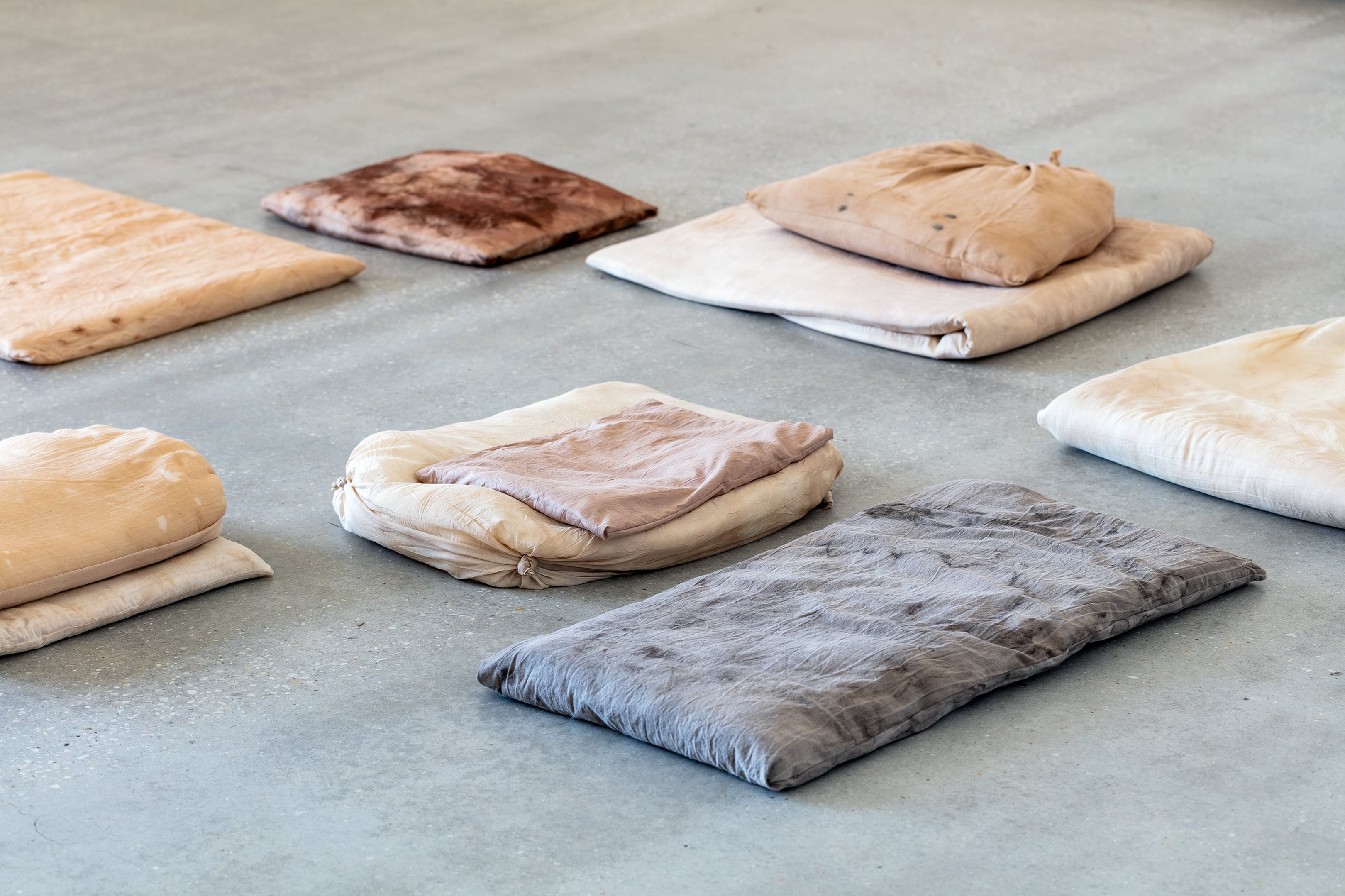 Under the canopy of a suspended length of silk, blankets, pillows and bundles are laid out, ready to cushion bodies that might be in need of rest. Pieces of cloth dyed shades of brown, bronze and orange, are stitched, knotted and folded to become bedclothes and soft furnishings — some carry imprints of leaves from the dyeing process, others are semi-sheer, revealing plant matter inside. The gesture of arranging these against the hard concrete floor of the gallery is an invitation to inhabit the space of the museum in a different way, to leave behind the divide between the private space, where we rest our vulnerable bodies, and the social 'outside'. The canopy is pale pink and rosy brown, with rust marks. It breathes slowly, as the air pushed through the vents of the climate control system moves around the room, out of synch with the gusts of wind bending the trees on the hills outside.
Clearing is an exhibition of works by Katie West, a Yindjibarndi woman and artist from Western Australia, currently living and working in Naarm. At the Tarrawarra Museum of Art, Clearing occupies a small gallery furthest from the museum entrance, with a picture window that looks out onto the vineyard and surrounding hills — Wurundjeri country, reinscribed by colonial agricultural practices.
From the speakers placed at one end of the gallery come sounds recorded elsewhere: bird calls, wind, water, a metal object (perhaps a bucket?) being hit by another piece of metal; maybe someone stirring something. West's voice is reading out nouns, pausing between each one:
soles of the feet
toes
— it starts, bringing to mind guided meditation tracks that invite you to focus on your physical body, slowly moving your attention from one part to another. Instead, West renegotiates the boundaries of the body, extending the self out:
hair
fur
blood
water
leaves
fingers
arms
wings
— are part of the same list — also:
pollen
gills
snout
tear ducts.
A reminder that we are intertwined with the environment and other bodies that share it — human, animal. Bodies breath air into lungs and use gills to absorb oxygen from water; leaves reach to touch fingers; water runs out of tear ducts; sunlight warms feathers and fur.
A shelf on the wall holds a collection of writing that anchors West's installation to Indigenous worldviews, including books by Bruce Pascoe, Kerry Arabena, Aunty Joy Murphy Wandin and Uncle David Wandin. In Becoming Indigenous to the Universe (2015), Kerry Arabena proposes a model of custodianship, linked to the concept of universal indigeneity, that brings together philosophies of Indigenous peoples from around the world with contemporary scientific and ethical thought. She suggests that the relationship we have with the world does not have to be defined by our cultural background. In The Seasonal Calendar of the Wurundjeri People, Aunty Joy Murphy Wandin names the seasonal change currently taking place in the area: from Luk (Eel) season, to Warin season, named after the wombats who start to come out during the day as the weather gets cooler.
Clearing offers us a space where we can be vulnerable together. A space for listening, reading and conversation so that — taking advantage of our shared language — we can reorient ourselves towards a concrete possibility of living differently.
Olga Bennett is an artist and writer from Russia presently living and working in Australia. Her recent work considers how experiences of physical and emotional vulnerability are reflected in images and words.