un Extended – un Projects online platform for arts writing, podcasts, and events.
With energy stolen from the bohemians who decorate the room? – Douglas Maxted
'You're weird. What do you want? A cappuccino, please. Grunt. The waiter rips out a page from their pad. They slam it on the table. It reads 'theory boy cappuccino' in marker. They turn to the long-haired sommelier. What are you doing tonight? Everything, baby. I'm a bohemian.'
Douglas Maxted's meta-fictional response to 'With energy stolen from the bohemians who decorate the room', a recent group exhibition at Bus Projects. Edited by Carmen-Sibha Keiso, un Extended Editor-in-Residence.
Modernist Monstrosities or Future? A Review of Sydney Contemporary – Levent Can Kaya
'Already seeing more sculptures and less paintings upon an initial scan of Hall D, the edge and verve of the 'Future' sector's gallery was immediately apparent. Touché, Sydney Contemporary.'
On a search for artist-runs, Levent Can Kaya strolls through Hall D at Sydney Contemporary 2023.
Making the Invisible Visible – Ella Howells
'Wood grain veneer, wobbled Word Art photocopies and chairs upholstered with flecked carpet are elevated beyond the substrates of nostalgia; utilitarian liturgy acknowledged. The artist's latest approach warps these motifs of ad-hoc literality through an esoteric magnetic filter for presentation in a group show curated by David Sequeira and Hee Joon Youn, opaquely titled Making the Invisible Visible.'
Ella Howells speaks to the magnetic shape, line and form of Gabriella D'Costa's work, currently showing at Fiona and Sidney Myer Gallery.
Soda Jerking Pepsi – Philip Brophy
'This "review" is a consideration of how Soda Jerk queries the effectiveness and relevance of satire, under contemporary political conditions of image-making, by specifically taking up their strategic insertion of the Pepsi® ad as a "Prologue" within Hello Dankness, to discuss broader issues of image-making and the mediascape within which both are produced.'
Philip Brophy on advertising, aspiration and Soda Jerk.
🐟🥦: big magical mood… what's narrative to magic – Gareth Morgan
'It's a big, magical mood at the so-called end of the world, but we're still making art, still going to little galleries in Naarm/Melbourne. FUTURES' exhibition, never together, dips into the language of magic, and the magic of language, producing a soft-talking magic of its own, a thoughtful shelter from the storm.'
Gareth Morgan invokes 'never together', currently showing at FUTURES.
CLAM & JACKIE BAM – Ep. #17 w. Georgia Morgan
The Gertrude Studio Program is one of Australia's most highly regarded contemporary art residencies. This year, 182 artists applied, eight were selected, and ONE sat down with Clam & Jackie Bam to eat hot chips and shoot the sh*t. Narrm's resident PC shock jocks were delighted to chat with Georgia Morgan aka @scorpiopork about art, intention, babies, Bondi, Judaism, Hinduism, trash, and more in this special un Extended audio commission.
Hit List – Digby Houghton
'The cyclical recyclability of visual culture appears more dominant than ever before, but Hit List provides a remedy for this in its curation that is both provocative, ironic and embedded in perpetually jarring contrasts that make way for new meanings.'
Digby Houghton reviews Hit List: Greatest Hits, recently showing at Composite Space for the Gertrude Street Projection Festival.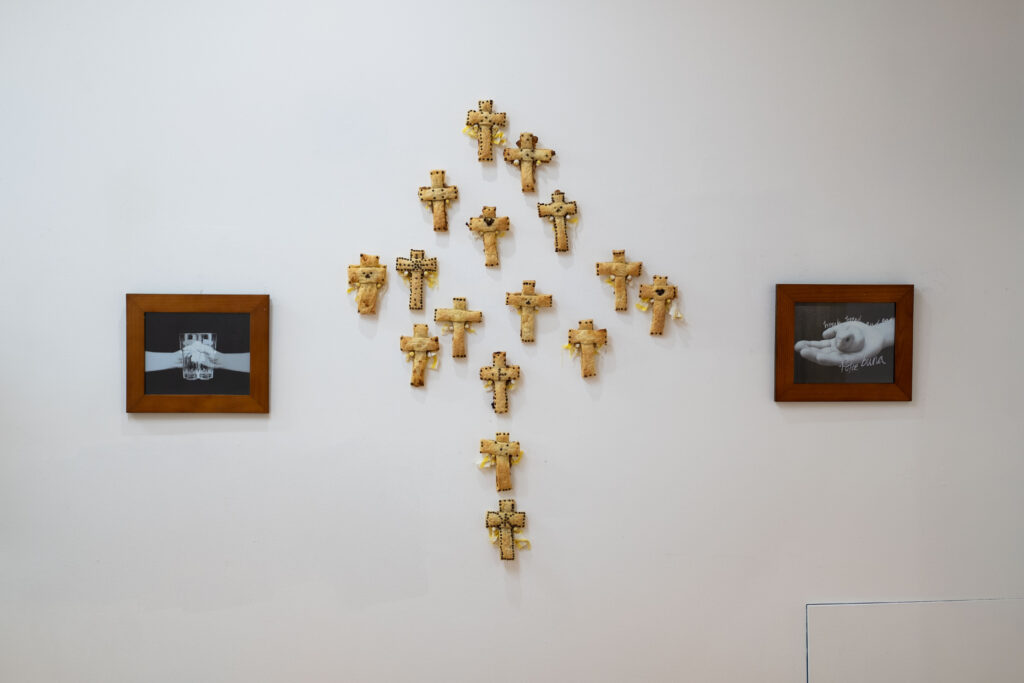 Much better than millennials who suck more than vampires suck blood – Diego Ramírez
'I am just trying out fangs for my eternal quinceañera. That is why I am writing this feature on two emerging artists working with themes related to vampirism, to take you on an earnest journey guided by a vocal fry monologue. You bet.'
Diego Ramírez sinks fangs into work by Stefa Panoschi and Neve Curnow.
Editorial Feelings – Paul Boyé
'The body persists in disembodiment, it dirties my trackpad and it squints over misplaced commas and accidental double spaces. Is this an editorial feeling or stationary fetishism?'
Paul Boyé, un Extended Editor-in-Residence 2022, writes a retrospective editorial.