Justin Shoulder
AEON †: TITAN ARUM
26 March – 5 September 2021
The Art Gallery of New South Wales (AGNSW), Sydney
I acknowledge the traditional custodians of the land where I'm writing from - the sovereign land of the Bunurong and Wurundjeri people of the Kulin nations. I pay my respects to their elders past and present and stand behind them in their fight for justice and self-determination. This land was never ceded. It always was always will be Aboriginal land.
I'm the last person in before the doors slam shut. I lean against cool black rock, catching my breath, when Corin Ileto's static rustling, whirring and fuzzy violin pans across speakers in all corners of the room. It morphs into samples of thunder and rain, of birdsong from Gadigal and Wangal Country. Justin Shoulder emerges, kitted out with prosthetic bones stuck to their skin. Their scalp is fixed with wired headphones that hang and tangle. Carrion Engcanto.1 Carrion beetles are what decompose remains and decay matter back into the earth. Carrion Engcanto are what guard psychic health. This is not an apocalypse story.
Wearing a mask with red-lit eyes, Shoulder flips into a backwards bridge and watches us from upside down. Their characteristic text to speech automation plays, and Carrion speaks.
'The men live in fantasy/ that everyone is like them/ so they are constantly shocked/

Total control/.../ The criminalisation of migration/ The chaos gave birth to madness/

I am your father you should show me some respect!/'
Carrion Engcanto is one of the many creatures that live within Phasmahammer, Justin Shoulder's body of mythology that extends from their life and the community they work within. It stems from a lineage of the Wunderkammer, a form of memory theatre where artists build microcosms of their worlds. In their ongoing research, Shoulder traces their matrilineal line through the Filipinx Diaspora, imagining a space where "queer and Filipino ancestral creatures can meet and propagate".2
The creatures that inhabit Shoulder's worlds have their roots in club performance. Club works as community storytelling betray western theatre reverence. In the club we can't stay in our seats or our bodies. We vocalise. We reciprocate. Where performance borne out of a nightclub education is difficult to translate into a ticketed gallery space, Shoulder's creatures move with some opacity.3
I sit on a burning log with M, hacking a blackening bark stub along where the smoke spirals out. The video work and costuming in Phasmahammer knows these fiery greys. My vision blurs with the heat. Orange waves roll through the sky. Palaeolithic pageantry.
Rock slopes fill up with creatures. Your ash disintegrates in the wind.
i'm angry too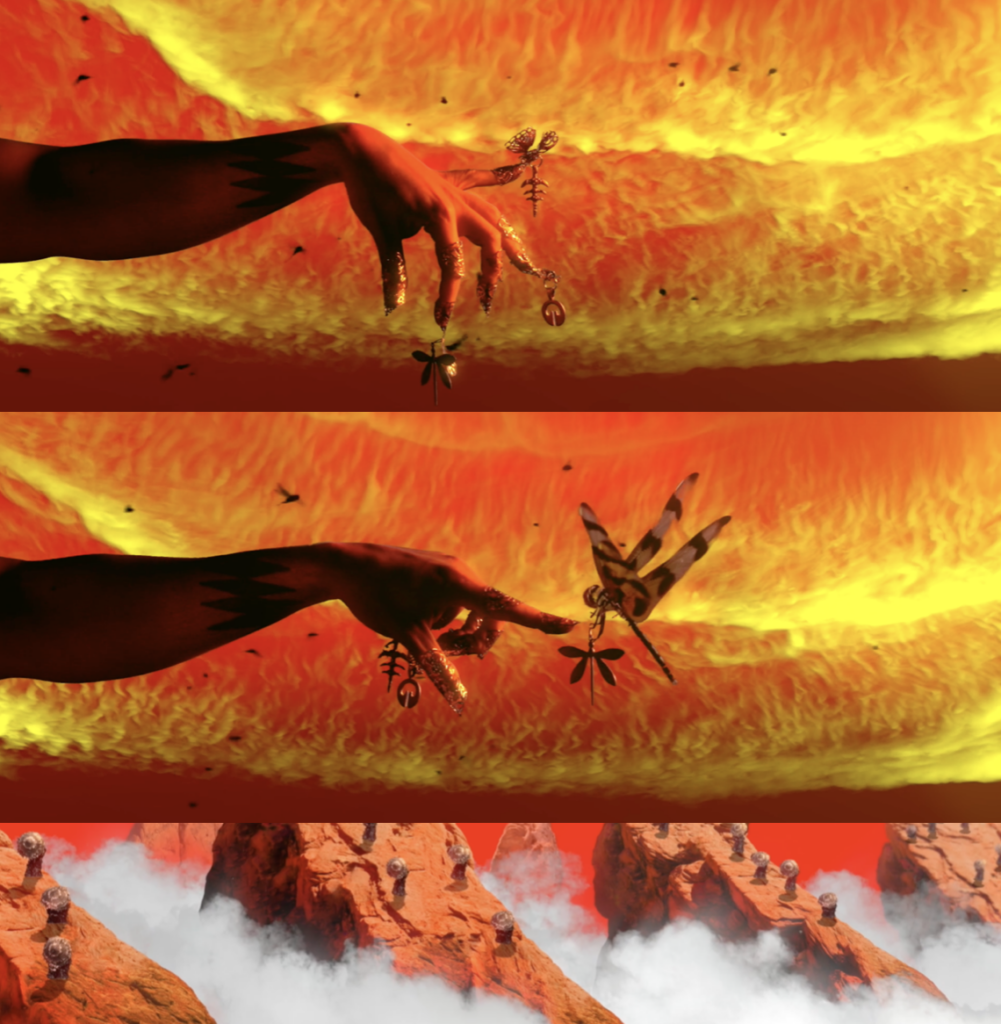 From the ash of CARRION (2018), Shoulder shapes the world of AEON † (2020), a performance work imagining the ecology of life budding in the muck of a parallel world.4 Shoulder's epics are all a continuation of each other, messing with linearity, expanding a web of story. AEON †: TITAN ARUM (2020) was performed on Gadigal Country at the Art Gallery of NSW, but I watch it online, rocked by the train ride home.5 I draw circles at the edge of my phone screen.
The pageantry of the carnivorous plants in AEON †: TITAN ARUM draws from the Panagbenga Festival in the Philippines. Bulbs, cones, seeds and pods, all furry and lined with ruffles, sway in the rippling light. Windchime synth melodies intermix with egg-cracking, gurgling and breathy exhalation. Insect wings brush our cheeks. Shoulder, birthed from one of the flowers, drags red bulbs across the space with their mouth, merging them together. The gentle Engcanto begins to call.
'Ninuno help us remember/ The spirits in the rocks and the trees/ The anito in the rivers/ That dewdrop connects to a trickle, a stream connects to a river./ Connects to an ocean./ Let us name those unlike us/ [whispers] Diwata./'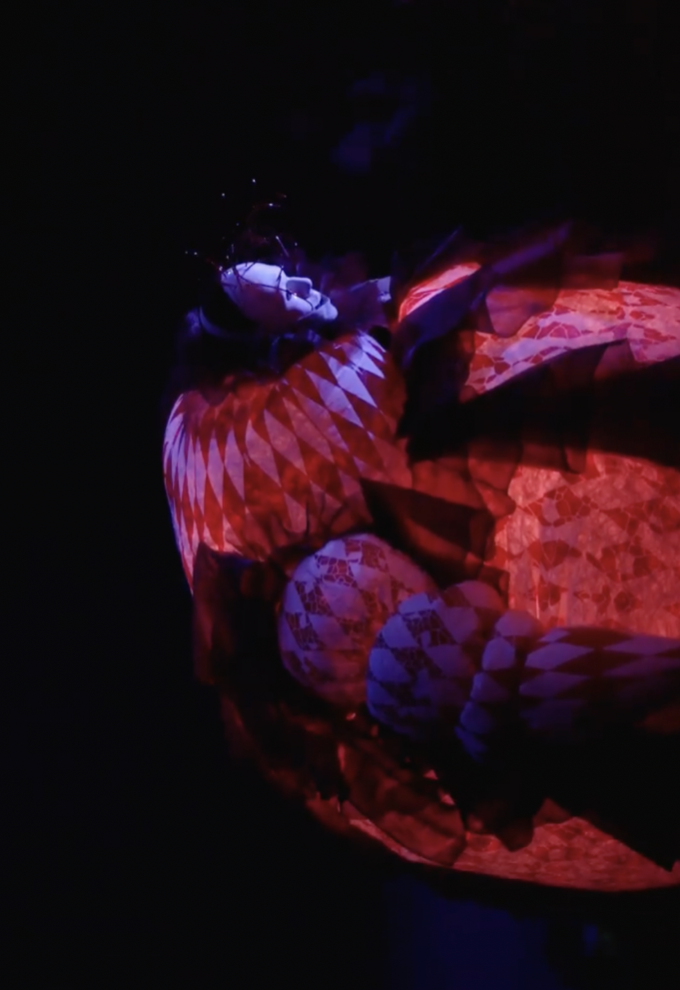 No justice. In Phasmahammer, Shoulder points at how ecocidal extractivism is driving neo-colonial austerity measures in the Philippines. The rise of right-wing populist Duterte brought in a murderous war on drugs, leaving a wake of victims of extrajudicial killings (EJK).6 In AEON †: TITAN ARUM, Shoulder displays a video of Luzviminda, the mother of EJK victim Raymart Siapo, at an anti-Duterte rally.7 Siapo was a nineteen-year-old abducted and killed by masked men in Navotas in 2017. Luzviminda holds a framed photo of her son and stands in front of a blazing effigy of Duterte. Protestors chant and weave around her. She stands unmoving. No peace. By displaying this video alongside intergenerational Filipinx mask performance and pageantry, Shoulder reminds us that the history of Filipinx resistance is an unbroken chain.
Beyond a poetics of witness, Phasmahammer is a site for grieving, and a site for change. New pupa. It mutates with the seasons. It flares up. It pulls up its armour. These colorations are a warning. Her body remembers this feeling.
From CARRION to AEON †: TITAN ARUM, Phasmahammer reimagines nuclear kinship systems and places the human as one of many beings in an ecology. These creatures form sissy-hood families.
Baklang Engcanto
SISSY 4 SISSY
Diwata
Clownfag
Ate
A laying on of hands8
Remembering keeps it alive.
La Swan is based in Narrm. Their work has been published or is forthcoming in Fence Books, virtualgoodsdealer, 3CR Community Radio, ITCH and Mantissa. They are a member of the King's Artist Run Emerging Writer's Intensive and edit Voiceworks Online. La likes to make and code noise music, idle in the sun and begin (again). 
This text was commissioned through the Emerging Writers' Program. An annual collaborative project, from KINGS and un Projects, that supports critical arts writing, fiction, poetry, experimental, cross-genre and digital text forms. The Emerging Writers' Program provides professional publishing opportunities and fosters dialogue between artists and arts writers. Each emerging writer in the program receives critical feedback and editorial assistance from KINGS and un Projects personnel.
In 2022, the KINGS Artist-Run Emerging Writer's Program is supported by Creative Victoria through their Sustaining Creative Workers initiative.
1. Justin Shoulder, CARRION EP I & II / LIVE WORK, Phasmahammer, 2019.
2. Justin Shoulder, Phasmahammer, UNSW, Sydney, 2016, p. 5-45.
3. Édouard Glissant, Poetics of Relation, University of Michigan Press, Michigan, 1997.
4. Justin Shoulder, "AEON†: EP I," Vimeo, published 28 September, 2020, https://vimeo.com/462832770.
5. Justin Shoulder, "AEON† : TITAN ARUM," YouTube, published August, 2021, https://www.youtube.com/watch?v=cxcRc89maBM.
6. Abby Martin, "Linda Oalican on How Empires Gutted the Philippines, A Brief History," YouTube, 12 February, 2019, https://www.youtube.com/watch?v=ARdfqrDGdyw.
7. Philippine Star, "Mother of EJK victim joins anti-Duterte rally," Facebook, published 23 July, 2018, https://www.facebook.com/PhilippineSTAR/videos/1105437789609901/.
8. Ntozake Shange, for colored girls who have considered suicide/ when the rainbow is enuf, Shameless Hussy Press, California, 1976, p.60.

Title from wall text written by Justin Shoulder for AEON †: TITAN ARUM, 26 March – 5 September 2021, the Art Gallery of New South Wales (AGNSW), Sydney.


In Tagalog, Engcanto means fairy. Ninuno refers to grandparents or ancestors, Anito are ancestor or nature spirits, and Diwata are the spirits that protect natural areas like forests. Ate is an elder sister, older female relative, or peer. Where sissy historically implies a lack of testosterone, libido and courage, once a term used to mock and shame effeminate men, sissy may be used as a term of resistance.