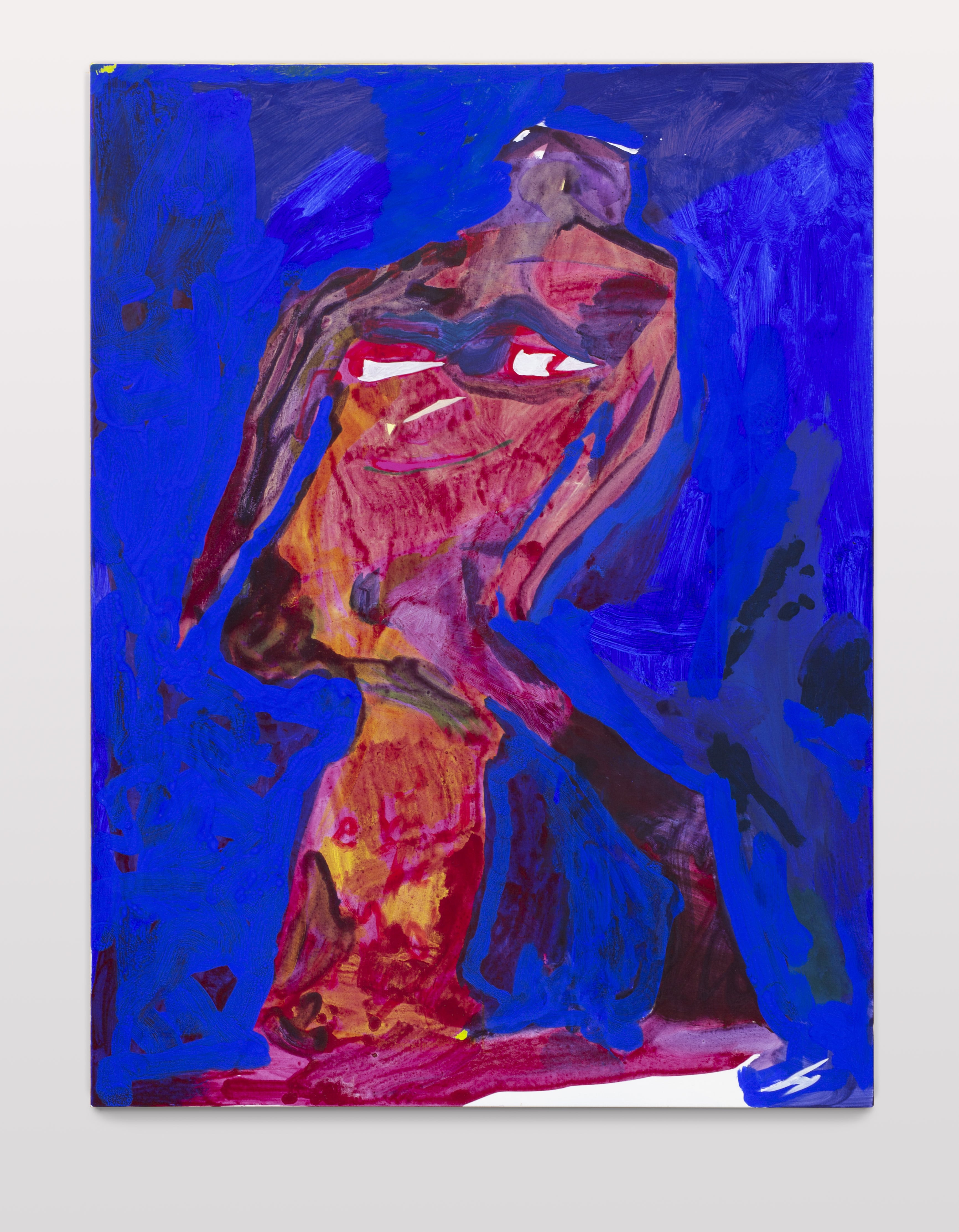 In a time of perpetual unknowns, the idea of an exit point — someplace beyond this moment — is guiding our present. In his current exhibition exit strategy held at STATION gallery, Tom Polo explores themes of arrival and departure, and the strategy one might physically, emotionally and psychologically undertake before they are to happen. For Polo, an exit strategy is concerned with the space between the known and the unknown, the notion of things planned without knowing the outcome. Through his theatrical use of characterisation — translated through colour, gesture and texture — we're lured into conversation with Polo and his emotionally charged mindscapes.
Throughout his career as an artist, whether it be in his residencies in Cite Internationale des Arts in 2016 or Palazzo Monti in Brescia, Italy, in 2018, Polo's paintings have been shaped by the immediacy of his environment and guided by the relation between intention and the act of physical manifestation. His paintings are heavy with metaphysical meaning through signs and symbols alluding to the malleability and fragility of the human experience. His fascination with theatrics, and perhaps this notion of one person playing multiple characters — whether it be in his paintings or in life — has acted as a guiding theme throughout his personal study of psychology and emotion, manifesting in his art practice through the personalities he creates. Polo is interested in the notion of things being constructed, that the whole is a sum of its parts.
I think that bringing in these theatrical modes where we have cues, where we have characters that are part of a bigger narrative, that things are fleeting, that characters are waiting in the wings, it kind of plays on 'the world is a stage' as has been said, and I believe that the construction of how we meet in physical space, the interaction of our emotional and physical bodies is about how we embody these notions through our gesture, through the way that we act and what we wear.
Following on with the idea of appearance, Polo suggests that, for him, a work isn't complete unless it has been seen, that the viewer brings to it their own sense of who they are on that day as a spectator, as an audience, as a character and as a breathing, receptive entity.
I think a lot about the audience, seeing the work in the flesh, your body against these bodies or figures, particularly as these figures are often larger than life size, they in a sense envelop the viewer and I kind of like that there is this sort of meeting of two figures or two people that are being looked at and that that role almost changes in that you are in that social zone and you are on that stage as well.
**
Entering exit strategy, I first notice the caricatures, captured in time by a magnetic whirlpool of colours. The characters almost beckon us in, only to lead us down hidden paths. Beguiling faces and evocatory gestures lure us deeper within the layers of pooling paint to find another story, another character, another question. Take, for example, stuck to a stage (2020) — a playfully colourful figure composed of pools of acrylic paint, surrounded by a hypnotizing blue, appears as in dance with narrowed eyes, as though they have just left their performance at a jazz bar and is slinking off into the early hours of the Yves Klein morning. Polo's development of characterisation has a sort of shapeshifting malleability; as he says, 'I kind of see it as a stream of consciousness that is entering and exiting the picture plane.' One of the largest paintings in the exhibition, we bury, we rise (2020) depicts a dramatic scene of figures in a duel, their bodies emerging one from the other, enmeshed in a moment of intimacy that favours a sort of Shakespearean drama scene. Polo uses urchin-like purples, deep pinks and vibrant yellow neons layered with deep ocean greens and blues — a message written in texture, tone and gesture, telepathically delivering a monologue to each of us in turn, for those still following the Shakespearean metaphor. Like in theatre, some things are deliberately hidden and others revealed in Polo's work, a game of cat and mouse with the viewer.
I'll often even hide bits of text within the work and abstract nature of the marks as well. So they become these other levels of diaristic embedding, just like the physical paint as well. And those narratives are ones of my own and the people around me, my interactions with them as well as culture and heritage.
Walking through STATION, it seems the paintings have taken on a life of their own, colours and characters almost swimming out of their canvas as they hang juxtaposed against the bold white walls of the gallery. It's as though the artist, the space and the audience are morphine into one. Polo's works have a relatable element to them, whether that be through colour, text, characterisation or technique. As he suggests:
I often use reoccurring thoughts or phrases around the works which talk about a transience of who we are or how things are changing or fleeting and how things almost bleed between one another. I think that having these phrases and reminders, gives a sense that there's me as the artist in the painting but there's also a sense of you in the works too.
Polo uses these techniques of layering, colour and personification to embody emotion and feeling, rather than relying on words to communicate a message. For him, it is about how we extend ourselves, with others, through these modes of gestural and emotional communication.
Technically, exit strategy is a little different to other of Polo's exhibitions. Working with his canvases flat on the ground, Polo was interested in how this technique changed the relationship between the figure and the space. As he states: 'There is a lot more watery, pooling of colour where the figure eats around the colour too. I often use flat colour so there is sometimes some doubt about where something sits.' In some areas his paintings have thick gestural layers, sponged and brushed on in cocktails of acrylic or oil paint as seen in dissolve and disappear (2020), while other areas of his work remain almost untouched. By using this method, Polo sought to change the interaction between his works and his audience; the push and pull between the colours and the figures is exacerbated by the layers of paint, playing on the theatrics within.
Overall, exit strategy is a portal to the space between the known and the unknown, the side wings between the stage and backstage. It's an invitation to peer beneath the layers of the subconscious and delve deeper into the various psychological palettes of Tom Polo. With the employment of new techniques, such as placing his canvas flat on the ground to achieve pooling sensations, it seems this is some of Polo's most experimental bodies of work yet, and a joy to be enmeshed in as a viewer.
Annabel Blue is an Australian Journalist and artist based in Naarm @blue_de_vere / @blues_cluwz