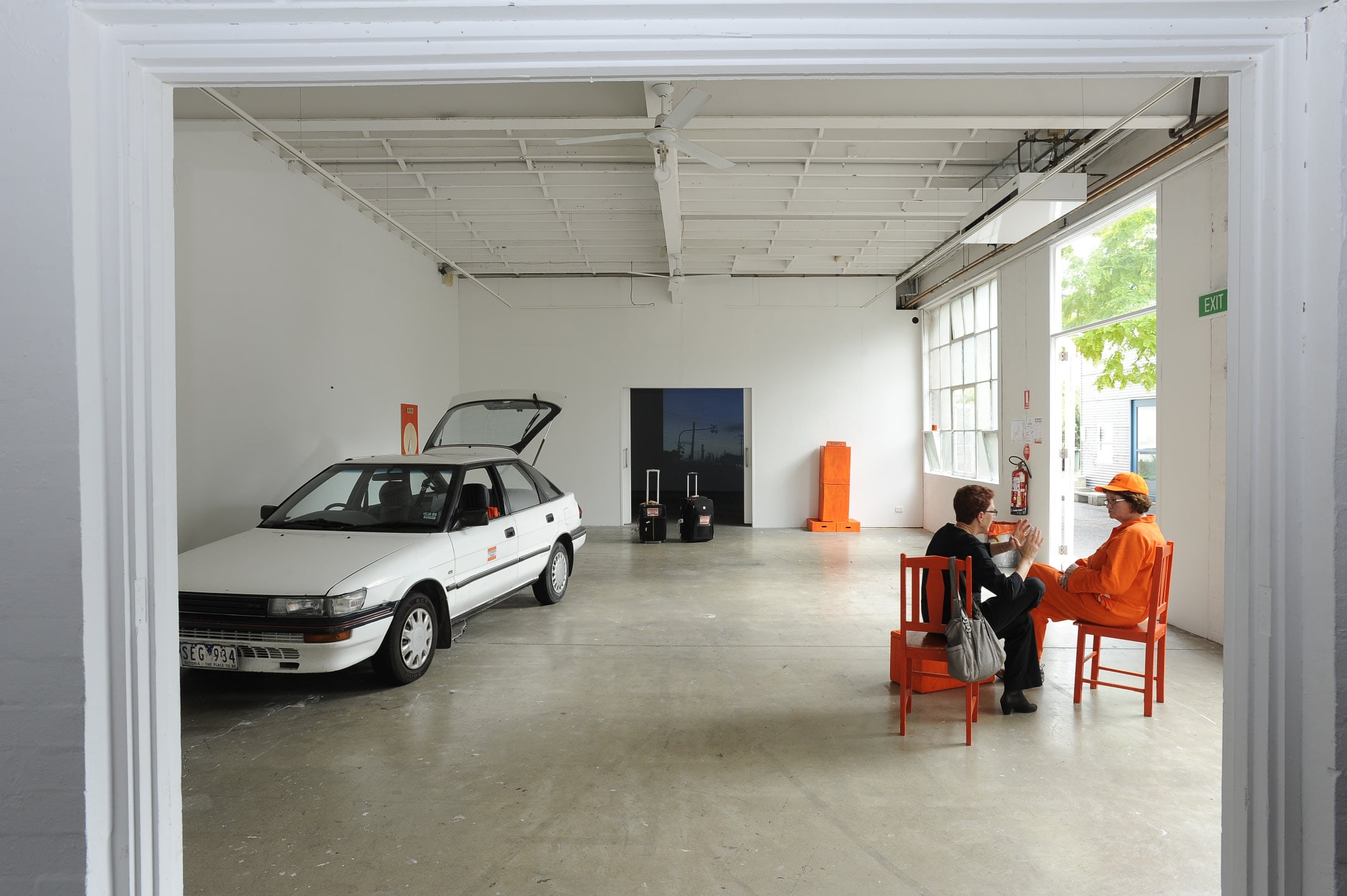 Kim Donaldson's PhD confirmation exhibition tomorrow a well formally marked the beginning of her academic research into the concepts of 'performing the curatorial' and 'context-sensitivity' in exhibition-making.1 In reality, Donaldson has been exploring these concepts for most of her career, working as both an artist and a curator to initiate group exhibitions exploring temporality, speculative futures and movement (such as the group exhibition Future Possible at Margaret Lawrence Gallery in 2011). In 2011, Donaldson's protean practice led to the development of Techno Park Studios, an exhibition and studio space run by Donaldson from a space attached to her home in Williamstown, from which emerged Technopia Tours, a travel-tour project involving performative collaborative works characterised as the 'mobile arm' of Techno Park Studios.2
In early 2013, Kim Donaldson and Sue Dodd performed as Technopia Tours at Art Stage Singapore, dancing and singing to a Devo-esque beat dressed in orange jumpsuits. Standing in front of projected footage of travel-related imagery such as planes taking off and airline safety instructions, Donaldson recited the names of well-known brands like iPad and Pepsi, while Dodd intoned 'I've seen it/Before/In another a place'. The footage online documents the immediate affect of the performance, showing audience members lingering at the doorway, perhaps too shy to walk past the hi-energy pair into the room, but too curious to keep walking.
At tomorrow a well, Donaldson personally greets every visitor dressed in the same industrial orange jumpsuit worn in the Art Stage Singapore performance, with 'TECHNO PARK TOURS' embroidered on the back and 'KIM' on the front. 'Would you like a postcard?' Well, sure! I take a few: one features Kim wearing the same orange jumpsuit on an empty concrete block with her arms out to her sides, making a T-shape, while in another she is standing in front of a projection, back to the camera, holding up an iPhone and taking photos of the projection (which is of a bus of tourists, themselves taking photos on their smart phones). The images on the postcards foreshadow the imagery recurrent in the gallery.
In the centre of the space is a white Toyota Corolla, a stack of postcards on the backseat. During quiet times, Donaldson sits in the car to keep warm. In the boot of the car is a TV with a video playing of a blue Holden Commodore being towed away—the same car that is pictured in large posters in an adjacent room. The Commodore was Donaldson's, and she tells me it was actually towed away shortly before the exhibition opened. Elsewhere there are large photographs of native birds (lorikeets?), as well as cleaning equipment including a mop and worker's vest (all in regulation Technopia Tours orange).
An orange table and chairs for two is positioned in a corner of the space near entrance, so I take a seat. On the table sits Walter Benjamin's Illuminations open to 'The Storyteller', and behind the seat is a poster for a conference called TIMING—On the Temporal Dimension of Curating, that took place at Academy of Visual Arts in Leipzig in January 2012. The totality of the references seems to be saying: Europe for Culture, Australia for Nature (and cars). From my vantage I can watch Donaldson engaging others who come into the space, attendant to the concerns that are typically those of a curator—the management of the experience of the audience moving through the exhibition, guiding them towards theoretical points of reference, 'value-adding' to their experience by handing out postcards. It is a literal performance of the curatorial, but it is also a performance of the 'artist' at work, present in the gallery in overalls, pointedly sweeping the space throughout the day.
Donaldson's work has long betrayed a wariness of standard modes of display and exhibition-production: in her 1998 exhibition It's About Time at RMIT Gallery, Melbourne, Donaldson collaborated with people across Victoria to create time capsules of their lives in 1998 to be displayed alongside institutional archives.3 Now, her recurrent interest in exhibition formats has been distilled into a practice-based PhD project to explore exhibition-making as an artistic medium, to think through the exhibition making process and question the normative curatorial assumptions attendant to exhibition-making. This means, perhaps, stripping back the temporal and spatial cartography that limit exhibition spaces in order to create the conditions for new ways of exhibiting art. At this early point in her research work, Donaldson tells me, she is simply creating the conditions to make possible the sort of artistic practice she wants to have.
Anusha Kenny is a writer and independent curator from Melbourne.
1. Kim Donaldson, tomorrow a well, exhibition invitation, emailed 13 February 2013.

2. Conversation with the artist, 14 April 2013.

3. Emma Wooley, 'Kim Donaldson: Timekeeper', Like, Art Magazine, #8, Autumn 1999, p. 30.