Michael Stevenson
Nueva Matemática
Museo Tamayo Arte Contemporáneo, Mexico City
26 August – 18 November 2012
A Life of Crudity, Vulgarity, and Blindness
Portikus, Frankfurt am Main
29 September – 2 December 2012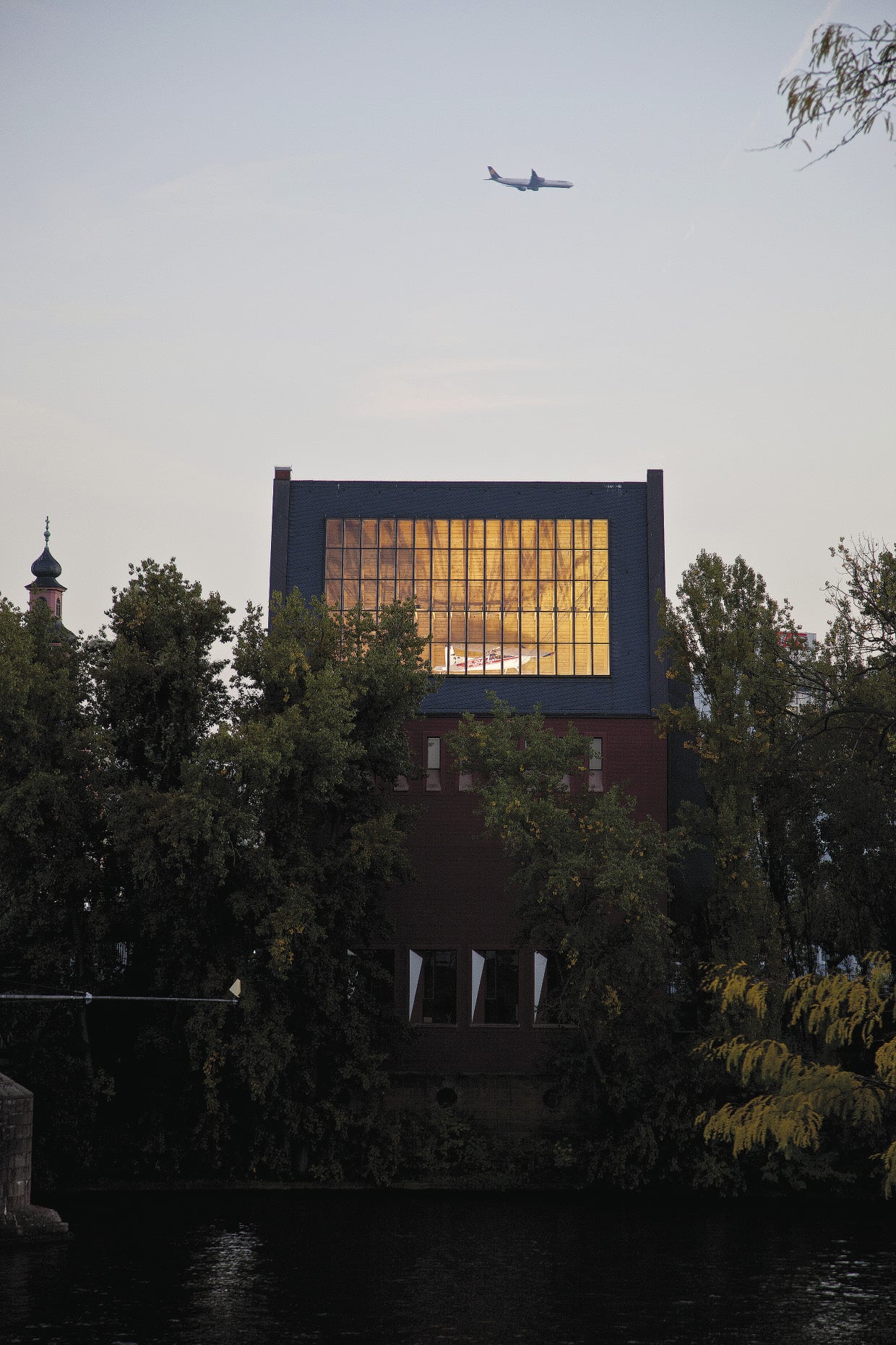 Flying into Mexico City's Benito Juarez airport, the city is resplendent in its massive, sprawling entirety. It resembles nothing more than a tide, a swollen flood of architecture, surging through every available crevice and lapping at the necks of the mountains that contain it. From my omniscient plane's-eye view, I can read, map-like, the landmarks that are already familiar from my Internet research half a world away. Bosque de Chapultepec, the huge central city park, is easy to spot, and I think I can see the Museo Tamayo among the trees at the park's eastern end.
I'm here to see an exhibition by the Berlin-based New Zealand artist Michael Stevenson. The project was commissioned by Museo Tamayo Arte Contemporáneo as part of a six-exhibition suite to celebrate its reopening after year-long renovations. Stevenson's exhibition in Mexico, Nueva Matemática, is the first of two that I will see on this trip — he is also staging an exhibition titled A Life of Crudity, Vulgarity, and Blindness at Portikus, in Frankfurt am Main, Germany. Two chapters of the same investigation, the exhibitions link two very different locations.
While I am following Stevenson around the world, first Mexico, then Germany, he's tracking someone else — an extraordinary man, no longer alive. José de Jesús Martínez (1929–91), Nicaraguan by birth but Panamanian by choice, was universally known in his adopted country as 'Chuchú'. A man of many and various talents, Chuchú was a mathematician, philosopher, soldier, poet, playwright and a keen aviator who owned and flew several light aircraft. He held doctorates from universities in Paris and Madrid, taught abstract algebra and mathematical logic at the Universidad de Panamá, and worked as bodyguard and aide to General Omar Torrijos, Panama's military leader 1968–81. Chuchú's love life was complex enough for him to never be able to remember how many children he had, but he suspected it to be 'about twelve'.1 During the Sandinista uprising in Nicaragua in the 1970s, Chuchú regularly risked his life, flying weapons and food to the revolutionaries' guerrilla camps in the mountains, and transporting Nicaraguan refugees back into Panama. In the words of the Argentine journalist Stella Calloni: 'He was dark and luminous at the same time.'2
The Museo Tamayo is made up of a series of roughcast concrete slabs that intersect to create a complex, light and spacious interior; however, as I descend into the depths of the building, it feels increasingly cave-like. The subterranean gloom of Stevenson's Nueva Matemática in the lower-ground galleries is eerie: a series of freestanding doors held in massive, industrially welded steel frames loom from the shadows. The doors are marked by generations of institutional use, greasy from the thousands of hands that have yanked and pushed at them. One labeled 'Departamento de Matemática' displays a no-smoking sign and posters advertising two mathematics conferences held at the Universidad de Panamá last year.
A childhood spent reading science fiction novels, in which a freestanding door is invariably a dangerous and alluring portal to another world, renders these doors ominous, despite their banal signage. As if to justify my apprehension, they are difficult to open. A tentative push won't do it: they are awkward and resistant, creaking loudly when forced. There is a persistent mechanical hum in the room, the sort of omnipresent sound that only becomes noticeable once it stops. It gradually intensifies, resolving into the drone of a distant aircraft, heard as if banking and climbing in the sky above.
The only light in the room spills over a dividing wall from a small neighbouring gallery where Stevenson's film Introducción a la Teoría de la Probabilidad 2008 is playing. Originally shown at the 8th Panama Biennial, this film is permeated by themes of passage and blockage, asylum and imprisonment, ambition and fate, which resonate with the complex avenue of doors I have just negotiated. Visually simple, the film shows cards being shuffled, dealt and played, accompanied by a narrative voice-over that recounts events that occurred on a small island off the coast of Panama in 1979. The unlikely cast of characters includes General Omar Torrijos, military leader of Panama; the Shah of Iran and his family who, fleeing the revolution in Iran, having been turned away by Mexico, accepted the General's invitation of asylum; and Patty Hearst, newspaper heiress, kidnap victim and one-time terrorist, who was on her honeymoon. Seen through the eyes of Chuchú — soldier-poet, philosopher-mathematician and present in his role as the General's bodyguard — the strategic jockeying of international politics plays out as a game of chance. The cards are dealt; players take their positions. Fate and mathematical probability coincide in a game where lives and futures are at stake.
Stevenson's return to Central America, four years after the completion of Introducción… has occasioned a return to Chuchú, and a chance to delve further into the contradictions of his inimitable personal philosophy. Visiting the Universidad de Panamá, Stevenson spoke to Chuchú's former students and colleagues in the mathematics department. Here, he heard an intriguing story that has also been related by the novelist Graham Greene, who befriended Chuchú in the late 1970s. Describing his friend's religious beliefs, Greene noted that he didn't believe in the Christian God: 'though he believed in the Devil. "Haven't you noticed," he said, "when you try to open a swing door, you always begin by pushing it the wrong way? That's the Devil."'3
Could a man generally regarded as a brilliant mathematician truly believe that, while God does not exist, the Devil resides in the hinges of a swing door? Is it possible to live knowing that even the small act of opening a door entails a struggle with a diabolical force? The answer, according to Stevenson, lies in aviation.
Like a pert Monopoly house with its pitched roof and tidy silhouette, Portikus stands on an island in Frankfurt's River Main that isn't much larger than the building itself. Access is via a narrow boardwalk which branches off a bridge spanning the river. For his exhibition here, A Life of Crudity, Vulgarity, and Blindness, Stevenson has transformed the entire gallery into a camera obscura. A near-life size model of a small plane — Chuchú's plane — is wedged in the attic. It is only directly visible from outside the gallery, looking back from the far bank of the river through the sloping attic windows. Inside, light flooding in through these windows transports an image of the plane through a series of apertures, lenses and mirrors, and down a purpose-built light shaft which has been grafted onto the side of the building. It travels a total of eighteen metres to arrive as a ghostly apparition in the darkened gallery two floors below. Floating in the otherwise empty exhibition hall like a mirage, the image disappears every time someone opens the door, reappearing when darkness is restored to the gallery. The effort of its travels has made it blur and warp. For a photographic image it is surprisingly painterly, with rich colours and a dynamic compositional sweep — but it is also fragile, somehow. Tenuous. Like the memory of a dream. Like the attempt to understand a man who died more than two decades ago, or an artist who lives 16,000 kilometres away.
Chuchú owned and flew several light aircraft. And in a gesture that neatly intersects mathematics, philosophy and poetry, he named them after numbers in the aleph sequence. Established by the pioneering nineteenth century mathematician Georg Cantor, aleph numbers refer to the relative sizes of infinite sets. The entirely counter-intuitive fact that an infinitely large group of things, in itself boundless, can be larger or smaller than another infinitely large group of things was mathematically proven by Cantor, who famously said of his discovery: 'I see it but I don't believe it.'4 Pure mathematics, rubbing shoulders with philosophy, veers away from the reasonable and spirals out into a poetic kind of abstraction. As Stevenson has observed, it is a beautiful image: a small plane, named for the mathematical description of infinity, a speck in an endless sky.5
A crucial link between Stevenson's two exhibitions is a slim booklet printed on airmail paper, which was jointly produced by Museo Tamayo and Portikus. It contains a text that Chuchú authored in 1979: Teoria del Vuelo [Theory of Flight]. This feather-light missive is a meditation on the sensation of flight, and the pilot's miraculous ability to coax his own body and the mechanical bulk of his plane into a state of weightless suspension. In flight, the pilot attains the ultimate sensitivity. Alert and responsive in body and mind, he is a 'living antenna' ready to make the slightest adjustment:
All of a pilot's movements must be done with utmost smoothness. Because of that, his body and even his soul take on a gentleness both natural and completely virile. It is a fragile universe. Nothing is pushed. Nothing is pulled. There is only a faint pressure.6
Away from the ground, the pilot is temporarily released from the weight and struggle of daily life. In Chuchú's words, which Stevenson borrows for the title of his exhibition, this is 'a life of crudity, and vulgarity, and blindness'.7 The senseless exertions, the pushing and pulling at doors (satanically possessed or otherwise), the frustrations and compromises of a gravity-weighted passage through existence, are cancelled by the pilot's finesse and agility.
For both Chuchú and Stevenson, such transcendence — however fleeting, however hard-won — occurs not through the rejection of matter but the mastery of it. The artist, like the pilot, carries his knowledge in his hands, and it is in this way that Stevenson makes Chuchú's plane take flight. At Portikus, the image of Chuchu's plane flies, quite literally, out of an existing window in the end wall of the attic, and re-enters the building through double doors in the exhibition hall. Defined by the structure of the building, the image exists as a confluence of architectural elements and the waxing and waning intensity of daylight. Harnessed, Portikus' architecture becomes a mechanism that is elegant in its analogue simplicity. Mechanically and continuously, it captures light to create a live photograph that is perhaps more film than photograph, a film with a frame rate of infinity that exists only in the moment it is witnessed.8 And so, Chuchú's plane, Aleph-1, is transformed into light.
In Mexico, Stevenson told me a strange and beautiful story about Chuchú. Teaching at the Universidad de Panamá, Chuchú was partway through an entry-level mathematics lecture when — mid-sentence — he abruptly left the room. Bemused, his students waited for the remaining time of their scheduled class before making their own way outside, where they were surprised to see a small plane circling above them. They immediately realised that this was their teacher: 'the professor, poet, mathematician, philosopher, now aviator in the sky. He was just arriving, from nowhere he came, a pilot at 3,000 feet dancing above their classroom.'9 Perhaps the ultimate pedagogical performance, Chuchú's unconventional teaching style seems to underline the importance of marrying abstract knowledge with practice:
What could all the wisdom of a theologian or a metaphysicist who never has to pay for his mistakes or profit from his successes possibly be worth next to a pilot's knowledge of the relationship between temperature and oil pressure, on which life itself depends from departure to arrival? … This is how I'd like to know whether or not God exists. This is how I'd like to know that two plus two equals four.10
It's night when my flight departs Frankfurt, and as the land recedes below me I can only see the lights of the airport, streets and cars. My investigation has taken me a great distance, across geographic borders. Pursuing a ghost with a lopsided theology, Stevenson has reached back through time. Invoking Chuchú's asymmetrical faith in a perfectly balanced binary pair of exhibitions, Stevenson has achieved a resolution of considerable poetic delicacy. Both Nueva Matemática and A Life of Crudity, Vulgarity, and Blindness are haunted by an absent aeroplane. Its distant drone reverberates in Museo Tamayo's foundations, and its image magically appears in Portikus' empty exhibition hall. There is a certain melancholy in this, but a kind of liberation too. In its absence, Chuchú's plane can become many things: a sound, an image, an idea. A gesture towards infinity.
Anna Parlane is a graduate research student in the University of Melbourne's art history programme. Her thesis focuses on the work of Michael Stevenson.
1. Graham Greene, Getting to Know the General, Middlesex, Penguin Books, 1986, p. 83.
2. William Grigsby Vado, 'Nicaragua: Passionate Memories from Times of Solidarity', in
Envío
no. 276, 2004. Published electronically at
http://www.envio.org.ni/articulo/2213
, accessed 11 October 2012.
3. Greene, op. cit., p. 43.
4. Quoted in David Foster Wallace, Everything and More: A Compact History of Infinity, W. W. Norton & Company, New York, 2003, p. 259.
5. Michael Stevenson, in conversation with the author, August 2012.
6. José de Jesús Martínez, Teoria del Vuelo, translated by Michelle Suderman, Verlag de Buchlandlung Walther König, 2012, p. 32.
7. Ibid., p. 31.
8. Michael Stevenson, in conversation with the author, October 2012.
9. Michael Stevenson, 'On the Teaching Style of Prof. José de Jesús Martínez (Chuchú)', unpublished notes, Carpeta Curatorial, Museo Tamayo Arte Contemporáneo, 2012.
10. Martínez, op. cit., p. 39–40.