Parallel Universes: 1970–1985
Mike Parr, Bruce Nauman, Keigo Yamamoto, Norio Imai, Joan Jonas, David Perry, Stephen Jones, Bush Video, Nam June Paik, Akira Kurosaki, Shinsuke Ina, Peter Kennedy, John Hughes, Gary Hill, Peter Callas, Bill Viola, Randelli Nobuhiro, Dara Birnbaum, Ko Nakajima
Curated by Matthew Perkins, Dr Mark Pennings, Lubi Thomas and Rachael Parsons
The Block, QUT Creative Industries Precinct, Brisbane
24 July – 4 August 2012
Walking into the exhibition space of Parallel Universes felt like entering a video art treasure trove. Shining in the darkness were the works of video art heavyweights: Nam June Paik's Global Groove 1973, Dara Birnbaum's Technology/Transformation: Wonder Woman 1978, and Bruce Nauman's Lip Sync 1969 to name a few. The exhibition featured seminal video works from the 1970s and 1980s by artists from Australia, Japan, Britain and the United States and demonstrated that, while these artists were geographically distanced and, in some cases, would have been largely unaware of the work of their contemporaries, they were indeed working in parallel.
Parallel Universes, expertly curated by Matthew Perkins, with his team Mark Pennings, Lubi Thomas, and Rachel Parsons, followed three major thematic threads: 'performance, identity and video', 'media is the message' and the 'politics of narrative'. The Block, a large warehouse-like space, designed and built specifically for the exhibition of new media and digital works, was curtained into three large chambers to reflect the themes. Tight clusters of screens within these spaces allowed the relationships between the works to be more prevalent, and it was particularly interesting to see the way in which Australian video art was recognised within an international historical context.
Parallel Universes gave thoughtful consideration to these connections, but there was a distinct absence in the exhibition — the presence of older analogue technology. The display of these historically rooted works was largely on digital screens, begging the consideration: what is lost when works are transferred from old formats and displayed on new technology?
References within the works to the specific formal qualities of the analogue medium were rendered mute in this presentation. This was particularly problematic for the works that considered 'performance, identity and medium', including Joan Jonas' Vertical Roll 1972, in which Jonas employs the rolling vertical lines that occur when the television signal is interrupted as a formal device. Within the work, the constant rolls disrupt her representation of her body and the female form. Vertical rolls obviously don't occur on digital screens, and the reflexivity to the medium became awkward in this display — there was something about watching vertical lines rolling past on a Mac screen that didn't quite fit. Other works suffered similarly: Norio Imai winding magnetic tapes around an old television set in Digest of Video Performances (1978–1983) 1978–1983, which considers the physicality and ephemeral nature of the video, would have had a stronger referential element on an analogue set, likewise with Keigo Yamamoto's Hand No. 2 1976, where the artist films his hand interacting with a pre-recorded counterpart that is played back on an old television set. Both would have effectively linked the medium to the content, had they been played on monitors that more closely resembled those of the era in which they were made.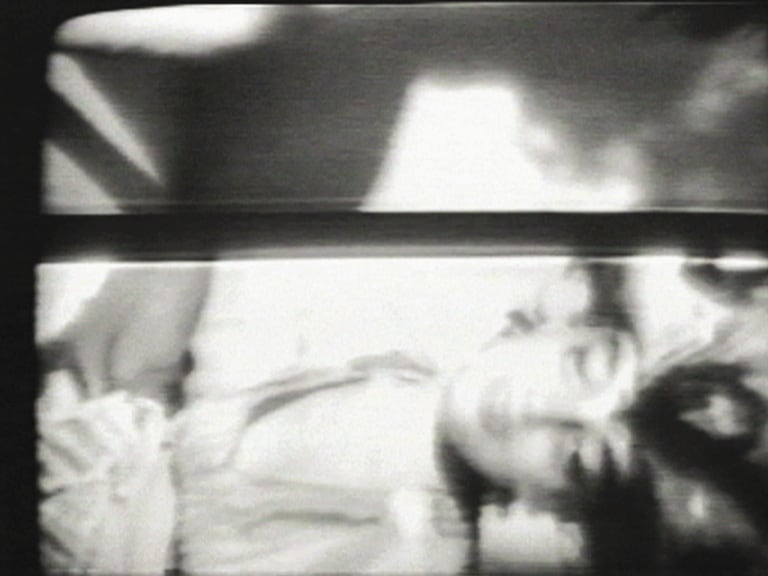 Moving through the exhibition to the 'media is the message' and the 'politics of narrative' sections, this lack of old technology was less jarring but still apparent. Some of these works dealt with the ideological power of the television set through the use of reconstructed footage to alter the messages originally broadcast, such as in Dara Birnbaum's Technology/Transformation: Wonder Woman 1978–79, which presents edited footage from the television show Wonder Woman. The isolated and repeated moment of the ordinary woman's transformation to superhero unveils the construction of gender in the program. Analogue televisions could be seen as a symbol of the power of the mass media over the public — as viewers consume content transmitted to them, but cannot change it. This separation in power between producers and consumers is what makes Birnbaum's deconstruction of Wonder Woman with its own re-appropriated content so powerful. Digital screens imply the opposite: power to form one's own content; access via the Internet making it possible to find your own sources of information and entertainment, as well as actively create it. Thirty years on from Technology/Transformation: Wonder Woman, through the internet and simple video editing technology, many consumers have the power to re-appropriate and redistribute content as they wish.
The artist collectives Duvet Brothers and Gorilla Tapes, both from Britain and active during the 1980s, reassemble cut-up found video footage into new political narratives, opposing the message constructed by the mainstream media of the time which largely supported the Thatcher government. Death Valley Days 1984, Gorilla Tapes presents montaged news footage hinting at a love story between Margaret Thatcher and Ronald Reagan. Similar techniques were used by Australian artists, Peter Kennedy and John Hughes in their work November Eleven 1979–81, which looks at the events of the Whitlam dismissal of 1975. Shown on Mac screens these works figured more like YouTube videos, where re-purposing found footage is common, though often employed more for humour than for political purposes. In this instance, newer screens enabled these works to be read as a beginning point of the common practice of consumers re-mixing and repurposing footage as they wish.
Having said all this, the zealous pursuit of analogue is not the answer. The importance of transferring video works from superseded formats is paramount to ensure they are not lost completely and trapped forever on inaccessible black magnetic tape. However, in an exhibition such as this, displaying these works on the formats they were created for benefits the viewer by providing visual context, whilst also attempting to maintain the integrity of the original works. Digital screens lack the heavy presence of an old box shaped, analogue set and the associations that come with it. These problems in exhibition will only be amplified in the coming years, with the analogue switch off due for completion across all of Australia by the end of 2013, making analogue televisions pointless to own and impossible to buy. Perhaps now is the time for institutions to invest more seriously in the collection of older formats of technology for the exhibition of historical material, to ensure that works from this period of time can be remembered as they were.
Amy-Clare McCarthy has recently returned from working at MoMA PS1 and e-flux, New York. She currently works at the State Library of Queensland and is a co-director of arts collective Current Projects.